مراقب عام
اشترك في: الاثنين إبريل 05, 2010 7:23 pm
مشاركات: 12905
مكان: المنصورة
بسم الله الرحمن الرحيم

كيمونو تريكو للبيبيهات بالباترون

jacket with overlap at front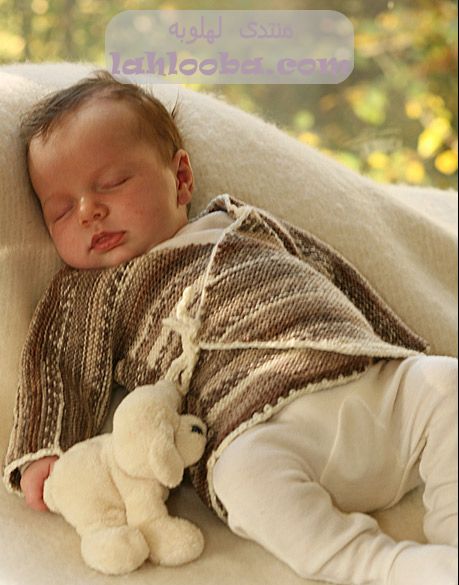 Size: 1/3 - 6/9 - 12/18 months (2 - 3/4) years
Size in cm: 50/56- 62/68- 74/80 (86/92-98/104)

Materials:150-150-200 (200-250) g colour no 912, soft chocolate
And use:50 g for all sizes colour no 0100, off-white

CIRCULAR NEEDLE size 3 mm – or size needed to get 24 sts x 48 rows in garter st = 10 x 10 cm.
CROCHET HOOK size 2.5 mm

GARTER ST (back and forth on needle): K all rows.
----------------------------------------------------------
----------------------------------------------------------

JACKET:
Worked back and forth on circular needle in garter st. Beg with one front piece, cast on for sleeves, work the other front piece, put the 2 front pieces tog on the same needle and work back piece from neck down.

LEFT FRONT PIECE:
LOOSELY cast on 29-34-38 (41-44) sts on circular needle size 3 mm with Fabel. Work garter st, AT THE SAME TIME on row 2 cast on 1 st towards mid front and repeat the inc on * every other and 3rd row * alternately a total of 18-20-24 (28-30) times = 47-54-62 (69-74) sts. After the last inc work 10 rows. Piece now measures approx 11-12-15 (17-18) cm.
NOW READ ALL OF THE FOLLOWING SECTION BEFORE CONTINUING!
On next row dec 1 st towards mid front (K2 tog) and repeat the dec on every row (i.e. dec from RS and WS) a total of 0-0-7 (19-12) times and then on every other row (i.e. dec from RS) a total of 28-31-29 (21-32) times (= 28-31-36 (40-44) dec sts). AT THE SAME TIME when piece measures 17-18-20 (21-23) cm cast on new sts for sleeve at the end of every row towards the side: 6 sts 2-2-3 (3-3) times, 8 sts 1-1-1 (2-3) times and 21-22-20 (23-24) sts 1 time. After all inc and dec are complete there are 60-65-72 (86-96) sts on shoulder/sleeve.
When piece measures 26-28-31 (33-36) cm insert a marker in piece = mid shoulder. AT THE SAME TIME cast on 2 new sts towards neckline and cast on another 2 sts on next row towards neckline = 64-69-76 (90-100) sts. Slip all sts on a stitch holder.

RIGHT FRONT PIECE:
Cast on and work like left front piece, but mirrored.

BACK PIECE:
Work left front piece onto circular needle size 3 mm, cast on 12-12-16 (16-20) new sts (= neckline on back piece) and work right front piece onto needle = 140-150-168 (196-220) sts.
NOW MEASURE PIECE FROM MARKERS ON SHOULDERS.
Continue in garter st. When piece measures 6½-7½-8 (8½-9) cm cast off sleeve sts at beg of every row each side as follows: 21-22-20 (23-24) sts 1 time, 8 sts 1-1-1 (2-3) times and 6 sts 2-2-3 (3-3) times = 58-66-76 (82-88) sts on row. Continue until piece measures approx 26-28-31 (33-36) cm – fold piece double at shoulder and measure back piece to front piece – and cast off.

ASSEMBLY:
Sew side and sleeve seams, edge to edge in outer loops of sts.

CROCHET BORDER:
Crochet a border round the whole jacket with crochet hook size 2.5 mm and Alpaca as follows: 1 dc in first st * 2 ch, skip 2 sts/ 4 rows, 1 dc in next st *, repeat from *-*. When you reach the point at front pieces, crochet tie strings as follows: 1 dc in point, crochet approx 25 cm ch, turn and work 1 sl st in each ch back to point, then 1 dc in point and continue the crochet border. Crochet a similar border (without the tie strings) round sleeve edges.
Crochet 1 tie string as described for crochet border on the inside of seam on the right side and 1 tie string on the outside of seam on the left side – make sure to place the tie strings in line with tie strings on front pieces.